Paying tribute to the unsung heroines of the biotrade sector
Women in biotrade and the South African natural products sector were recognised and celebrated by the ABioSA project (Access and Benefit-Sharing Compliant Biotrade in South(ern) Africa) and its partners at the 18th Biotrade Stakeholder's Forum on 23 August.
The event was convened by ABioSA, and its sister projects GQSP-SA (Global Quality and Standards Programme South Africa), UNIDO (United Nations Industrial Development Organization), SIPPO (the Swiss Import Promotion Programme) and the SSAIP Project (Swiss South African Intellectual Property).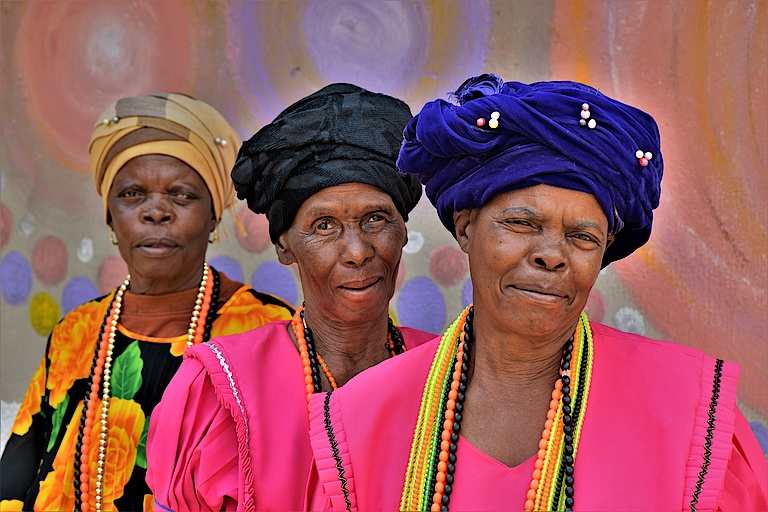 Setšong Tea Crafters, a 100% black-owned company comprising youth and women, is one of the beneficiaries of the ABioSA human capacity development programme.
The purpose of the event was to raise awareness of the importance of empowering the voices of women in leadership and decision-making spaces, particularly in communities, and their role and involvement in the value chain. The event highlighted the need for engaging with and including women in communities in the biotrade value chain, and the wider sector.
This meeting was the second Women's Month celebration hosted by ABioSA and its partners, following the 2020 event which profiled more than 50 women working with natural products. Its theme was When women support each other, great things happen, and it celebrated the strong representation of women in the sector. This year, the theme was Paying tribute to the unsung heroines of the biotrade sector.
Today, 78% of companies in the industry are owned by women, and women comprise 68% of the natural products workforce. This number is as high as 80% in rural areas. These numbers speak to the fact that women are actively driving the industry forward, but should not be taken as a sign that equality has been achieved.
"The number of women in the sector across the value chain could provide a false sense of security that no further action is needed," said Adrie El Mohamadi, Component Manager for ABioSA. "Today's meeting was about working together to identify how we give a voice to women who may be represented, but who are not empowered as decisionmakers. Women who do have the power to make decisions and who contribute towards governance structures must ensure our sisters in communities are afforded the same level of autonomy over their lives."
The unsung heroines of the biotrade sector, including community representatives, planters, harvesters and processors, shared their experiences in the biotrade value chain, and the need for women's voices to inform industry decisions. Many participants shared their experiences of decisions made by men which they felt they should be making themselves.
Yolande le Roux, representing Tsitsikamma Honeybush Co-operative, spoke about the experiences of Khoi and San women in the Eastern Cape. She indicated that women are ready to be more active participants in the biotrade value chain as processors and exporters, rather than merely as labourers.
"Nothing about us without us," said le Roux. "We want to be engaged when the terms of reference for a particular project are being drawn up, and for projects to have a more developmental focus. Benefit-sharing agreements are important, but we want to develop as business owners."
Matilda Mpai, a business owner, shared the experiences of some of her employees in Botswana. Women, she said, needed to be supported to create sustainable businesses. Illiteracy was identified as the biggest obstacle to this, as well as the fact that the majority of harvesters are elderly women who are also responsible for running their households.
"Because women undertake so much unpaid care work, they often don't have time to develop their businesses," said Mpai. "When they do have time, they require support in managing investments and recordkeeping. This is an area where assistance is sorely needed."
Other topics of discussion included whether the role of women in their communities is appreciated and respected, the challenges faced by women in their work, and the kind of support women need in order for their voices to be heard. Gender-based violence, a lack of education, unplanned pregnancies and a lack of sanitation services during menstrual cycles were identified as barriers to women fully participating in the biotrade sector. Access to data in order to engage online was identified as a low hanging fruit which the sector could speedily address.
"This was a timeous meeting, as the biotrade sector is ready to commit to transforming unequal power relations between women and men," said Serole Mketsu, Advisor for ABioSA. "We will work towards addressing the inequality which keeps women from fully participating in the biotrade and in society. The biotrade sector will succeed or fail based on its ability to respond to gender challenges."
The forum was convened to celebrate August as Women's Month, when South Africa acknowledges the resilience of the more than 20,000 women who protested the extension of Pass Laws to women in 1956.
The forum hosted formal inputs from:
Adrie El Mohamadi, Component Manager for ABioSA and BioInnovation Africa (BIA), Deutsche Gesellschaft für Internationale Zusammenarbeit (GIZ) GmbH
Yolande le Roux, Tsitsikamma Honeybush Co-operative
Matilda Mpai, founder and CEO of Divine Morula
Elsie Meintjies, Chief Technical Advisor for UNIDO
"In many southern African cultures, women are the stewards or custodians of ancestral knowledge for using plants to heal or nourish the body, and yet so many of their voices are ignored," said El Mohamadi. "It is time for women's socio-economic and cultural empowerment be put at the top of the biotrade agenda. Opportunities for women and girls must be prioritised when commercialising natural products. Stakeholder forum members need to look beyond the number of women in the sector and start asking what we can be doing differently in our projects and initiatives to empower women and improve the quality of their lives at the beginning of the value chain."